This memorial website was created in the memory of our angel baby, Devin Joseph Allen who was born in Michigan on October 19,2004 and left our world suddenly on May 24, 2005. Although we will never understand why God chose to take Devin away from us so soon he will continue to live in our hearts forever.





Devin Joseph Allen












Devin was born on a cool, misty day but he brought the sunshine with him. With his bright blue eyes, he was ready to take in the whole world and all it had to offer. From the beginning he checked everything out showing us that no matter how young he was very smart and bright. There was no doubt he was going to grow into an inquisitive little boy. Unfortunately, God had other plans and a long life wasn't going to be part of Devin's story.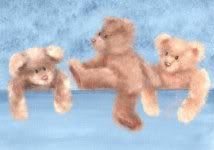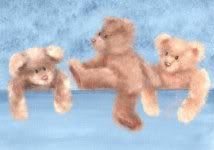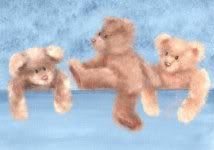 During his first couple weeks, his daily routine involved keeping his mama & daddy up as much as possible. He was also very good at telling us when he needed something. If we didn't move fast enough for a bottle, he didn't hesitate to remind us he wasn't happy. Devin's older brother Caleb quickly took on the role of Devin's protector and interpreter. Whenever Devin made a sound Caleb made a point of informing whomever was in charge at the time what his baby brother needed.Devin for the first few months slept in a bassinet in his mama's room but it wasn't long and he was set up to share a room with Caleb. Caleb slept in a loft bed so he could lay there and just watch Devin and he did. Many nights you could sit in the adjoining family room and listen to them talk to each other. Devin couldn't talk like you and I but Caleb would talk and Devin would answer him. God & Caleb only know what Devin was saying but it went on for quite awhile until Caleb was reminded it was bed time or Devin would be brought out in order to get Caleb to sleep.



Each day seemed to bring new and amazing events in Devin's life, it was always so wondrous to watch him discover the little things that we as adults take for granted. Seeing him find his fingers and then his toes just made you smile at the wonder that he showed on his face. When he first rolled over and couldn't figure out how he got in the position he was in or how to change it brought every one into the room to watch him do it again. He was just getting his first tooth, starting to crawl (in reverse no less) and saying what was understood as mama, dada and baba. His life seemed to be developing like every child's until the day in May that changed our world and shattered our lives.

May 24th was a beautiful sunny spring day. Who would ever believe that a string of little things would shape everyday to come? Devin woke up early as usual and spent the morning having breakfast and watching cartoons with his big brother until it was time for Caleb to go to school. Normally we left Devin in his play pen while we took Caleb down to the bus. For some reason, Devin came with us to put his brother on the bus that morning. Only God knew this was the last time Caleb was going to see his baby brother alive. They hugged and kissed as was Caleb's custom of doing but this time Devin grabbed Caleb's nose and giggled as if returning the feelings. After Caleb left, Devin and his nana shared some play time and then his mama, Connie, came home and took over.

Around , Devin's mama decided to put him down for his nap because he had become fussy and was rubbing his eyes, a clue that he was tired. Since his mama was home, his nana decided to run a few errands leaving the house a little before . The events that unfolded that afternoon seem like a part of someone else's life but painfully we know they are part of our family's and the end of Devin's life. His mama checked on him at and found he was sleeping peacefully snuggling his blanket. A few hours later, at , his mama went to check on him because he usually woke up around . she found him under his blanket not breathing.

Connie is a volunteer firefighter for the Village of Estral Beach where we live. Although when she found him there were no signs of life, she desperately tried to bring Devin back. With out knowing Caleb's bus had dropped him off out front and when neither Connie or her Mom came to greet them the bus driver, Penny came in to see if anyone was there for Caleb and found Connie frantically trying to save Devin. Seeing that Connie was getting tired Penny stayed and offered help & sent Caleb back outside. Shortly afterwards, Connie's fellow firefighters arrived and tried to revive him as well. After a long ambulance ride, Devin was met at the hospital by his Daddy, Grandma Lynne, Grandpa Scott, Nana and Papa. While waiting, we all were praying for a miracle... hoping for our angel to come back to us. When Devin was pronounced dead at left behind all those who love him.





Often over the past months we have found ourselves questioning what we did that last day if we had done something anything differently would the end have changed. I'm still not sure but I do know Connie did all she could for Devin short of dying with him & had it not been for Caleb I believe she would have. A horrible thing that the medical world calls SIDS ( Sudden Infant Death Syndrom) took Devin away from us. Is it just a cover for all the unexplained deaths that happen everyday in our country as well as all around the world? I don't begin to know, but what I do know is it can happen to anyone. Poor & rich, white & black no one is immune & Devin is proof. We did everything we could to keep him safe & it wasn't enough. Like everyone I was under the missinformation that he was safe because he was over six months old, now I know it can happen even to young adults just under a different name. Do I give advice to other families with young children? YES!!! When you put your baby down for a nap make sure that there is nothing they can get tangled in. Don't pick a blanket because it's pretty but because it's safe, preferable a hand crochet or knitted one or a cozy sleeper blanket that you put them in that zips to the neck almost like a sleeping bag. Get rid of the bumper pads, they are pretty but a baby can get caught under them. There is nothing wrong with you if you constantly check your child while they sleep & if it happens to you or already has I pray God give you the strength to go on & the knowledge that you did everything you could to keep your angel safe. We all learn from experience I just hope you learn from ours & never have to live it - the pain of loosing a child is so gut wrenching that there have never been words created to explain it.






I WISH YOU

When you're lonely
I Wish you Love.
When you're sad
I Wish you Joy.
When you're discouraged
I Wish you Hope.
When life is stressful
I Wish you Silence.
When your spirit is empty
I Wish you simple Beauty.
When you're troubled
I Wish you Peace.
Jerry Knoll






Miracle

Sung by: Celine Dion

You're my life's one miracle
Everything I've done that's good
And you break my heart with happiness
And I confess it's true
I never knew a love like this 'til you

You're the reason I was born
Now I finally know for sure
And I'm overwhelmed with happiness
So blessed to hold you close
The one that I love most
Though the future has so much for you in store
who could ever love you more

The nearest thing to heaven
You're my angel from above
Only God creates such perfect love

When you smile at me I cry
And to save your life I'd die
With a romance that is pure in heart
You are my dearest part
Whatever it requires
I live for your desires
Forget my own, your needs will come before
Who could ever love you more

There is nothing you could ever do
To make me stop loving you
And with every breath I take
Is always for your sake
You sleep inside my dreams
And know for sure
Who could ever love you more.
Lyris by: Linda Thompson
Music by: Stephen Dorff





It has been nearly 4 months since I, his nana, last held our beautiful baby boy. It's not the big things in life that make me cry but the little ones, like filling out paperwork for Caleb that asks about siblings and now having to fill out none, seeing a beautiful sunset on the lake and knowing Devin never got the chance to experience so many things in life.In turn seeing that Caleb sometimes seems lost without Devin drives home the horrible truth about that day and those that have followed. Although he was with us for such a short time Devin touched the hearts of all who came in contact with him. His smile illuminated a room. We will forever miss our little angel. We'll always wonder what might have been had he not been taken so young.


Devin won't ever see a birthday, get to tag along with his big brother even when Caleb says to stop. Their brotherly love wasn't given the chance to develop into a friendship. They should have been given time together a chance to discover each other and they weren't. It doesn't seem fair and I couldn't begin to understand why God chose to take Devin back so soon. No words of condolence or understanding makes the pain any less, Devin should be here enjoying the summer and playing with his big brother, getting all the love his family could give him. He isn't and the love seems to float in the space he left and that hurts most of all.


We survived October 19th which would have been Devin's 1st birthday it was a day of somber celebration & a time for reflection of what might have been. My daughter Connie & I took a floral arrangement made to look like a cake and a balloon to Devin along with a toy car early in the afternoon. Later she along with Chad, Devin's Dad, & Caleb, his older brother, went to visit him alone. Caleb chose to celebrate his baby brother by blowing bubbles to heaven so Devin could play with them along with putting up Halloween decorations & a toy truck. The month of October in itself was one that left the family quiet with memories of the anticipation that filled the house last year. The quiet of this October was heart breaking, so many dreams for Devin that will never come to pass was so overwhelming. I would like to thank so many for taking the time to remember him too. Your kind words made it a little easier to get through as I know you are all going through your own grief right now too.



CALEB DREAMING OF
DEVIN CATCHING HIS BALLOONS IN HEAVEN
WE BELIEVE
WHEN LOVE IS PURE IT SURVIVES EVERYTHING
EVEN DEATH!!






Well we got through Thanksgiving a day that marked Devin's 6 month anniversary of getting his angel wings. The family spent the day some what separated as my husband, Dan, Caleb & I spent the time in Buffalo,New York with our oldest daughter, Shannon & her husband, Mike, while Connie because of work had to stay home. Considering everything I think she rather prefered it that way even though she was apart from Caleb on his 5th birthday on November 25th. I truely believe there are angels and that Devin is one and that he came to visit his big brother for his birthday, Caleb doesn't speak of Devin a lot lately but he mentioned on his birthday that him & Devin played together & I do believe him when he says he's seen his brother. Devin seems to know when he's needed by Caleb & is quick to respond, I thank God for this gift he's allowed Devin to give Caleb.


Christmas has come & gone & now the New Year is here. Wish I could say it was a great one but the holidays only seemed to magnify the sadness. I tried to get myself into the spirit of the season but nothing helped not even putting up the tree. We spent the holidays with family as much as we could handle.
Our son John came home from Washington, where he serves in the Navy, & stayed for over a week before going back to get ready to leave for Afganistan in mid January. Shannon & her husband Mike couldn't come home this Christmas & spent the time with Mike's family in Maryland.
Being one that has always loved Christmas this year was so different I never pictured myself in a cemetary on Christmas eve puting decorations on my grandson's grave. Nor did I see my daughter Connie & her son Caleb going there on Christmas day after opening gifts to take a special letter from Caleb to Devin but that's what happened this year. John although not feeling well went with me to help put a Christmas tree & a few small gifts on Devin's grave. I don't think he'll ever know how much that simple act, even though my husband Dan talked him into it, meant to me.
It became the family's desire to make every wish of Caleb's come true & to this end nothing would be left undone. Having turned five just after Thanksgiving Caleb was so excited about Santa & everything that goes with him. I don't think there was a toy on earth that that little boy didn't want but he made sure Santa knew the important ones, he even gave pictures of a robot to the "mall" Santa with his name on it. Thought my daughter & I were in trouble when we couldn't find it but after several phone calls we located one & to make sure he got his wish my daughter drove through a snow storm to get it. On Christmas morning he was more excited about the fact Santa had eaten the cookies & drank the milk he left him as well as getting a thank you from santa, than all the gifts, it's all he could talk about. Then to beat all he told my daughter the robot "santa" got, even though it was the one in the picture was the wrong one. I thought she was ready to fall over from shock.
Caleb has been the saving spot in this family a little boy who carries all the love that he used to share with his baby brother. I marvel at his strength through all of this, he speaks of Devin with such love & understanding that when I hear the phrase "from the mouthes of babes" I understand what it means. Caleb has spoken of visits from Devin & of playing with him, when our golden retriever died of cancer this past month Caleb tells people he sent Bart to play with Devin for Christmas.
The year 2005 is one I would like to forget but is one that I will hold in my heart forever because although it holds the worst day of my life it also holds most of Devin's life - something I will never give up. God may have taken Devin from me but what memories I have of him still belong to me.




I first saw this poem when my Grandma died back in 1995. After seeing it I cried my way through reading it at her memorial service. Now after coming across it again over 10 years later having experienced a loss so much greater because Devin was so young its words mean even more to me now. I pray that they both are walking slowly down heavens path so that some day I might catch up & give both my Grandma & my Grandson a great big hug and kiss like I do in my heart everyday. I have to thank God everyday that he blessed me so much that I had two very beautiful Angels in my life. Each teaching me in their own way what it feels like to be loved with no boundries. There is no greater love than one that comes with no demands other than to have it returned & I have & continue to feel it today as I know Love never dies it is eternal.

Should you go first

Should you go first and I remain
To walk the road alone,
I'll live in memory's garden, dear,
With happy days we've known.

In Spring I'll wait for roses red,
When fades the lilac blue,
In early Fall, when brown leaves call
I'll catch a gimpse of you.

Should you go first and I remain
For battles to be fought,
Each thing you've touched along the way
Will be a hallowed spot.
I'll hear your voice, I'll see your smile,
Though blindly I may grope,
The memory of your helping hand
Will buoy me on with hope.

Should you go first and I remain
To finish with the scroll,
No lenght'ning shadows shall creep in
To make this life seem droll,
We've known so much of happiness,
We've had our cup of joy,
And memory is one gift of God
That death cannot destroy.

Should you go first and I remain,
One thing I'd have you do:
Walk slowly down that long, lone path,
For soon I'll follow you.
I'll want to know each step you take
That I may walk the same,
For some day down that long, lone road
You'll hear me call your name.
-A.K. Rowswel



With the coming of spring so many raw emotions have come back to the surface. All winter I wished for spring not realizing that with it's arrival came all the heart ache of last spring. How can it be Devin has been gone nearly a year & the pain can still feel so new? The tears come with the morning light and the singing birds that wake me with their sweet song as they did that day I wished had never happened. My arms still yearn to hold him & sing in his ear a soft lullabye like I used to. I believe that he waits for us in a world so beautiful because he's there. How could it not be paradise when it holds so many little ones. Since Devin's death I have been given the honor of learning about other angels like him. Little ones like Maddie, SarahFaith, Devan, Andrew, Dakota, Sarah, Caylee, Aiden, Kayleigh,Elijah, Charlotte & Christian who have left the safe arms of their Mothers to become angels too. I have been honored to know their Moms as well as those of bigger angels like Robert, Katie, Eric, Brian, Craig, Danny & Dustin. You have all touched my soul & I know our angels are together in God's paradise each watching over us all. As we come up on the 1st anniversary of Devin getting his angel wings I have found it hard to visit your angels not because I have forgotten any one of them but your pain & mine is more than my heart can handle right now, so be patient & know that my silence is just a quiet prayer I say in my heart. You are all so dear to me as you have taken my angel into your heart I have you & yours in mine. God bless each and everyone of you with a peace in the knowledge that love is eternal & we will all meet someday when we too are called to his paradise.




Another Christmas has come and gone along with the beginning of another new year and still the feeling of loss holds on. Caleb & Devin are now both big brothers with the arrival of a new grandson Cody Matthew came into this world on February 12th at 4:34a.m. He so looks like his big brothers especially Devin all that's missing is the small heart shaped birthmark on the tip of his nose it was once described to me as Devin's angel kiss and it truely was a kiss from heaven.





How blessed we were to be given such a precious gift as Caleb & Devin but to now have Cody to love & cherish too is far more than we ever dreamed.








Please leave a message or ight a candle so Connie & Chad know that you care about their little boy and that in some small way Devin's story has touched your heart. Thank you for caring enough to visit. By coming here you help them keep the spirit of Devin growing even though he will forever be a 7 month old little boy with a smile for everyone.





If I could have a lifetime wish,
A dream that would come true,
I'd pray to God with all my heart
for yesterday and you.
A thousand words can't bring you back;
I know because I've tried.
And neither will a million tears,
I know because I've cried.
You left behind a broken heart
And happy memories too.
I never wanted memories,
I only wanted you.
An angel In The Book of Life
Wrote down my baby's birth
And whispered as She closed The Book
"Too beautiful for Earth.

WE HELD YOU IN OUR ARMS FOR SUCH A SHORT TIME
BUT WE'LL HOLD YOU IN OUR HEARTS
FOREVER


My little one
you've gone too soon
No more sunshine
too few moons
My heart is heavy
too much pain
Had our love
been all in vain?
To see your smile
and hear your voice
Gone too soon
not given the choice.
The memories still hurt
with moments we'll never share
To look to the future
the heart doesn't dare.
What would you have been
only God knows the dream.
At one, five and twenty
life's picture is but the seam.
I wake every morning
and stop to just listen
A home made so empty
crying out for who's missing
Some day in the future
I'll hold you in heaven
For if anyone asks
It's now the home of my Devin.

by Nana



I hope that I can find you in heaven...
... cause I'm lost without you down here.



LOVE NEVER DIES IT WAITS FOR US IN HEAVEN!!!!!!

*SOME PEOPLE ONLY DREAM OF ANGELS*
*WE GOT TO HOLD ONE!!!*






{Site Pictures By Michele
mncs_hayes@hotmail.com}


http://www.ringsurf.com/netring?ring=SIDSFamilies;action=list

http://www.piczo.com/classicmjm?g=8816731&cr=1

http://janimations.net/